Strengthen, Nutrify & Renew Your Hair & Scalp
Sale price
AED 599.00
Regular price
Tax included.
Unlock a two-part process of cleansing and renewal with the Hair Growth Set.
Start by massaging the WA Hair Scalp Shampoo into wet hair and gently rinsing away buildup. Then, repeat and restore the nutrients your scalp is missing.
This creamy formula has a powerful blend of essential oils, hydrolyzed proteins, and lipids that help your scalp transform.
You'll also stimulate growth and speed up the cycle of renewal with two bottles of WA Hair Serum. Wheat germ, soybean germ, bamboo extract, and apple extract are the key to a stronger finish.

• Speed up healthy hair growth
• Increase hair density and shine
• Moisturize, Protect and Balance the Scalp

• 1 WA Hair Scalp Shampoo
• 2 WA Hair Serum
• Complementary WA Microfiber Towel
• Complementary Cosmetic Pouch

• Paraben Free
• Phthalate Free
• Silicone Free
• Sulfate Free
• Gluten Free
• Fragrance-Free

• Suitable for color treated hair.
• Suitable for all hair types.

• Free Shipping in UAE
• GCC Shipping Fees is 200 AED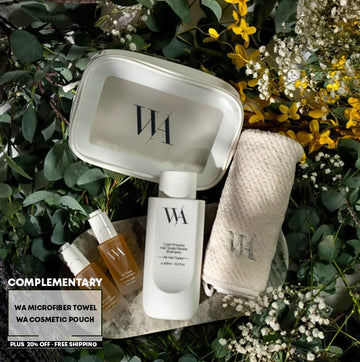 Hair Growth Set
Sale price
AED 599.00
Regular price